Sirshree's Introduction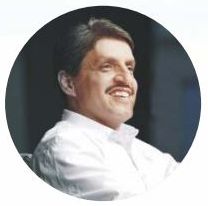 Tejgyan Foundation has been founded by Tejguru Sirshree. Sirshree's spiritual quest which began during his childhood, led him on a journey through various schools of thought and meditation practices. The overpowering desire to attain the truth made him relinquish his teaching job. After a long period of contemplation, his spiritual quest culminated in the attainment of the ultimate truth. Sirshree says, "All paths that lead to the truth begin differently, but end in the same way-with understanding. Understanding is the whole thing. Listening to this understanding
Sirshree realized that the lack of Understanding was the missing link in all paths leading to Truth. He says, "Everything is a game of beliefs. Understanding is the whole thing." What he means by this (to the extent that it can be explained) is that Truth has been condensed and interpreted ambiguously as a natural result of its paradoxical nature.
For instance, he says, according to one teaching, our true nature is Everythingness, while there is another teaching that refers to Nothingness as being our innate nature. Both are true, and yet the higher understanding that transcends both these teachings is that "We are Nothing with the potential of everything."
In the same vein, he goes on to expand on many traditional assertions, such as the statement, "The purpose of spiritual quest is self-realization - to experience the Self / God." Sirshree says, "Self- realization is just the beginning. A true master will not just give you a glimpse. He will guide you to a state where you will be permanently established in the experience of the Self". He refers to this state as Self- stabilization. He goes further to say that Self-stabilization is not the end... it is only then that the true purpose for which your body came to this Earth begins to be fulfilled. It is then that expression of the true Self begins.
---
To disseminate this understanding, Sirshree devised Tejgyan - a unique system for wisdom - that helps one to progress from self-help to self-realization. He founded TejGyan Foundation, a not for profit organization committed to spreading "Happy Thoughts".
Sirshree's summation of Truth is short and concise, consisting of five points.
Only God exists. Investigate and verify whether you exist or not.
Everything is just a game of beliefs. Understanding is the whole thing.
The purpose of life on earth is to train the mind to be unshakable, pure, obedient and loving.
There is a reason to be always happy (it is within you!). It is possible to be always happy.
Guru, God, Grace, and you are one.

Sirshree's has delivered more than 1500 discourses on Truth as well as on various aspects of practical living. Among these are discourses that clarify the core tenets of various religions. A notable assertion by Sirshree in this context is: "Mankind does not need a new religion; what it needs is the thread of understanding that can bind all religions together."

His is an amazing ability of conveying the subtlest understanding through casual contemporary language. The highest aspects of Truth are woven into analogies, parables and humor that provoke one to contemplate. Sirshree's retreats have transformed the lives of thousands and his teachings have inspired various social initiatives for raising global consciousness.